WELCH ALLYN 3.5V DIAGNOSTIC SETS
Innovative technology with a variety of options to fit your requirements.
97150-M – includes: standard ophthalmoscope (11710); macroview otoscope (23810); rechargeable handle (71000-A); and hard case.
97200-MC – includes: coaxial ophthalmoscope (11720); macroview otoscope w/throat illuminator (23820); convertible 3.5V rechargeable handle (71000-C); and hard case.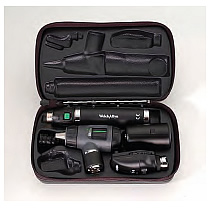 | Product Number | Description | | Quantity | Price |
| --- | --- | --- | --- | --- |
| 111-97150-M | Diagnostic set | | each | $769.23 |
| 111-97200-M | Diagnostic set | | each | $824.67 |