Sproam No-Rinse All Body Spray/ Foam Cleanser
Designed as an all body spray or foam cleanser, Sproam is the perfect product for head to toe cleaning including incontinence, bathing, and shampooing. Sproam is super versatile that can be used as a spray or foam cleaner.
Sproam is a non aerosol product that forms a dense, cleaning foam which contains no perfumes or dyes, which moisturizes the skin.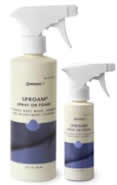 | Product Number | Description | Size | Quantity | Price |
| --- | --- | --- | --- | --- |
| 310-0897 | Sproam | 6 oz. | each | $7.14 |
| 310-0901 | Sproam | 12 oz. | each | $10.99 |
| 310-0903 | Sproam | 3.8L | each | $54.32 |
To Order, Please Click Here