SHARPS COLLECTORS
Nestable – With an exclusive funnel-shaped opening and safety neck, these sharps collectors are nestable for easy storage. They allow point-first drop and reduce the risk of tampering and spilling.
One Piece – Convenient, vertical "point first" drop, these robust sharps collectors are preassembled and offer a patented one-way funnel valve to minimize needlesticks and overfilling.
Point-of-use – One-hand, one-step technique; they feature a counterbalanced door. Container provides security against tampering.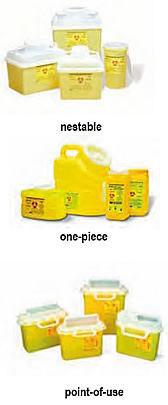 | Product Number | Description | Size | Quantity | Price |
| --- | --- | --- | --- | --- |
| 333-300450 | Nestable, Inner Liner, Yellow | 3.1L | each | $3.26 |
| 333-300439 | Nestable, Funnel Cap | 7.6L | each | $6.68 |
| 333-300443 | Nestable, Open Cap | 13.2L | each | $8.95 |
| 333-300434 | Nestable, Point-First Vertical Entry | 22.7L | each | $17.92 |
| 333-300460 | One-Piece, Funnel Cap | 1.4L | each | $1.83 |
| 333-300466 | One-Piece, Funnel Cap | 3.1L | each | $4.07 |
| 333-300475 | Point of Use, Side Entry | 5.1L | each | $7.64 |
| 333-300974 | Point of Use, Horizontal Entry | 5.1L | each | $4.33 |