PREVAIL UNDERWEAR FOR WOMEN
Maximum absorbency for day & night.stretchable, breathable waist panels for containment and protection with a comfortable fit. The specialized absorbent core gives concentrated protection and odor control where it is needed most for women, while the SmoothFit™ fabric offers a soft, discreet fit just like panties. .
- Underwear Designed Specifically for Women
- SmoothFit™ Fabric (not available on Classic Fit)
- Sizing label printed on inside back of product (not available on Classic Fit)
- Specialized Absorbent Core
- Also available in Prevail for Women Classic Fit similar to Prevail® Extra Underwear.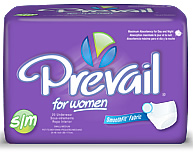 | Product Number | Description | Size | Quantity | Price |
| --- | --- | --- | --- | --- |
| 740-PW-512 | Prevail for women, small/medium | 34" – 46" | ca/80 | Contact Us |
| 740-PW-513 | Prevail for women, large | 44" – 58" | ca/72 | Contact Us |