Prevail Safe And Soft Bladder Control Pad
These body shaped pads with cloth-like outer fabric are designed for stress and urge incontinence. They have a full length adhesive strip for secure anchoring and offer the ultimate in discretion and protection. With the blue stay-dry strip, liquid is quickly wicked and locked away from the skin for ultimate skin dryness, leakage protection and odor control.

Prevail's Blue Stay Dry Strip ensures that all liquid is absorbed while keeping the skin dry and healthy.

Features include:
* Cloth-Like Outer Fabric
* Advanced Zoning System
* Full Length Adhesive Strip
* Individually Wrapped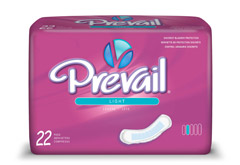 | Product Number | Description | Size | Quantity | Price |
| --- | --- | --- | --- | --- |
| 740-BC-011 | Bladder control pad, regular | 9.25" | ca/198 | Contact Us |
| 740-BC-012 | Bladder control pad, extra | 9.25" | ca/180 | $41.20 |
| 740-BC-013 | Bladder control pad, extra plus | 11" | ca/144 | $41.20 |
| 740-PV-915 | Bladder control pad, ultra plus | 13" | ca/168 | $63.99 |