OPSITE WOUND DRESSINGS
OpSite Incise Drape – is a transparent, adhesive polyurethane film that allows the skin to breathe, so preventing moisture build-up under the drape. As a result, it adheres to the surrounding skin throughout long surgical operations and right up to the wound edge.
OpSite Flexigrid - has the same benefits of OpSite but with a unique wound measurement grid.
OpSite Flexifix – a transparent film roll that is waterproof and a barrier to bacteria. Its high moisture vapor permeability allows the skin to breathe while the acrylic adhesive minimizes the risk of skin damage on removal. The film is highly conformable and extensible to increase patient comfort.
OpSite Spray – is a transparent and quick drying film that is easy and convenient to apply. It is permeable to moisture vapor and air, water resistant, conformable and elastic. It helps to provide protection for dry minor surgical and surface wounds.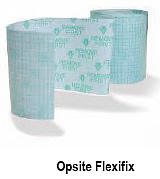 | Product Number | Description | Size | Quantity | Price |
| --- | --- | --- | --- | --- |
| 185-4963 | Opsite Incise | 10cm x 14cm | bx/10 | $41.58 |
| 185-4975 | Opsite Incise | 10cm x 14cm | bx/50 | $118.58 |
| 185-4628 | Opsite Flexigrid | 6cm x 7cm | bx/100 | $41.02 |
| 185-4630 | Opsite Flexigrid | 10cm x 12cm | bx/50 | $115.22 |
| 185-4631 | Opsite Flexigrid | 15cm x 20cm | bx/10 | $50.68 |
| 185-4632 | Opsite Flexigrid | 12cm x 25cm | bx/20 | $94.08 |
| 185-66000040 | Opsite Flexifix | 5cm x 10m | roll | $19.46 |
| 185-66000041 | Opsite Flexifix | 10cm x 10m | roll | $35.70 |
| 185-66000375 | Opsite Flexifix | 15cm x 10m | roll | $47.60 |
| 185-66004978 | Opsite Spray | 100ml | each | $18.34 |