MOTION DETECTION MONITOR
Based on detection of bedtime movement with a wired connection to a remote alarm.
This compact system includes a sensitive motion sensor for use in bed under the mattress on a foam pad support to detect motion due to events like seizures. The controller is normally located near the bed and is adjustable to provide a suitable time delay to minimize false alarms for short duration movements. There is also a sensitivity adjustment to allow for variations in mattress thickness and degrees of movement. The alarm condition initiates a power output to a wired circuit connected to a remote alarm box. A 10 metre cable is provided, but longer lengths are available, if required or additional extensions can be used. If preferred the alarm box can remain in the same room as the monitor and the alarm signal can be picked up by a baby monitor and relayed to its portable receiver.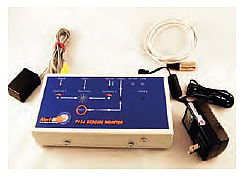 | Product Number | Description | | Quantity | Price |
| --- | --- | --- | --- | --- |
| 728-S1027-CAN | Motion Detection monitor, standard | | each | $977.13 |