CONVEEN LATEX & LATEX FREE MALE EXTERNAL CATHETERS
Latex – This catheter and liner features an anti-kink port and a doublesided adhesive strip with memory to provide optimum security. The transparent material facilitates monitoring of the skin.

Latex Free - This two piece external catheter is made of comfortable, skin-friendly, non-latex material with a flexible, double sided adhesive liner that requires no spiraling & won't restrict blood flow. The anti-kink port prevents twisting and kinking that can result in backflow of urine. The unique push ring provides easy and secure connection to drainage bag.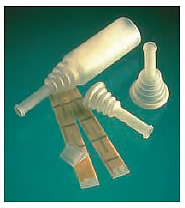 | Product Number | Description | Size | Quantity | Price |
| --- | --- | --- | --- | --- |
| 310-5125H | Catheter | 25mm | bx/100 | Contact Us |
| 310-5130H | Catheter | 30mm | bx/100 | $175.56 |
| 310-5135H | Catheter | 35mm | bx/100 | Contact Us |
| 310-5025H | Catheter, latex free | 25mm | bx/100 | Contact Us |
| 310-5030H | Catheter, latex free | 30mm | bx/100 | Contact Us |
| 310-5035H | Catheter, latex free | 35mm | bx/100 | Contact Us |
| 310-5040H | Catheter, latex free | 40mm | bx/100 | Contact Us |