LUMEX THREE POSITION RECLINER
The Lumex three position recliner easily adjusts into any one of three positions: sitting, TV or full recline. Recliners offer numerous therapeutic benefits including position changes that can aid in circulation and ease discomfort from respiratory, heart and other ailments. A position lock allows the caregiver to secure the chair in any one of the three easily attained positions. The Flex-o-lator seat support system increases comfort by reducing the risk of "bottoming out" while the ergonomically designed seat and back with varied density foam construction provides correct support. Recliner has a durable welded steel epoxy coated frame with two, four inch swivel casters with wheel locks and four inch front wheels.
Side bolsters provide lateral stability to keep residents properly positioned and can be easily attached without tools. Weight capacity of chair is 250lbs. Fire rated colors are: Rosewood (863), Blue Ridge (427) & Jade (857).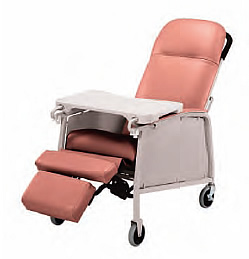 | Product Number | Description | | Quantity | Price |
| --- | --- | --- | --- | --- |
| 139-FR574G(XXX) | Three Position Reclincer | | each | Contact Us |
| 139-FR599G(XXX) | Side bolsters | | each | Contact Us |