LUMEX CLINICAL CARE RECLINER
The Lumex clinical care recliner easily adjusts to three positions plus trendelenberg with the easy to activate gas cylinder mechanism. The welded steel frame is constructed of round tubing resulting in improved structural integrity of the frame. It has a wider and softer armrest for patient comfort; softer seat and back for improved patient comfort; varied density seat back and redesigned seating position which provides excellent comfort and support during long sitting; durable, high impact side tables; easily removed "pop-out" side panels; and four Tente swivel casters to facilitate transport and maneuverability in confined areas. The left and right rear top-locking casters provide positive lock while the directional wheel lock on the right rear caster reduces "crabbing" of recliner and enables the chair to be moved down hallways with less effort. The weight capacity of chair is 290lbs. Fire rated colors are: Blue Ridge (427),
Jade (857) & Rosewood (863).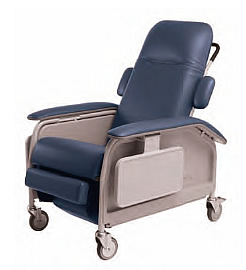 | Product Number | Description | | Quantity | Price |
| --- | --- | --- | --- | --- |
| 139-FR577RG(XXX) | Clinical Care Recliner | | each | Contact Us |