ISAGEL INSTANT HAND SANITIZING GEL
Designed as a waterless hand cleanser and sanitizer, Isagel instant hand gel has demonstrated that it kills 99.5% of all microorganisms when tested, in vitro, in just 15 seconds. As of October 25, 2002, The Centers for Disease Control and Prevention (CDC) released a new guideline for hand hygiene in healthcare settings.

The new guideline recommends the use of no-rinse alcohol-based hand sanitizers for hand washing in healthcare settings to help decrease the amount of infections caused by hospital environments.
Studies have shown that alcohol based rubs decrease the amount of bacteria on the hands, greater than that of regular soap. They also created less skin irritation and dryness, and was more accessible to use.
Easy and convenient to use, Isagel Hand Sanitizer helps to sooth and moisturize skin while it disinfects.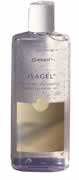 | Product Number | Description | Size | Quantity | Price |
| --- | --- | --- | --- | --- |
| 310-1644 | Isagel | 118ml | each | $2.10 |
| 310-1645 | Isagel | 621ml w/pump | each | $9.94 |
| 310-1647 | Isagel | 3.8L | each | $29.96 |