InterDry Ag Textile with Antimicrobial Silver Complex
Designed to help keep "skin to skin" areas dry, InterDry Ag Textile is a skin fold management system that helps reduce the amount of moisture in skin folds as well as manage odour and inflamation in other skin to skin areas.
InterDry Ag Textile works by taking away moisture to help keep skin dry and healthy while adding a smooth, friction reducing surface that reduces the amount of inflamation that occurs from moist skin friction.
Also uses Antimicrobial Silver Complex to help reduce the amount of odour in skin folds.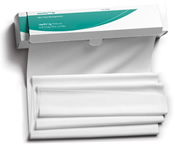 | Product Number | Description | Size | Quantity | Price |
| --- | --- | --- | --- | --- |
| 310-7910 | InterDry Ag | 10" x 12" (25.4cm x 365.8cm) | roll | $104.44 |
To Order, Please Click Here