Hex-On Odor Antagonist Spray Bottle
Designed as an odour antagonist for incontinence, Hex On is an easy to use spray that neutralizes odour that effectively works for hours. Used for more than 30 years in the healthcare field to control airborne odour.
Very effective at controlling odour and is available in lemon or fresh linen scents.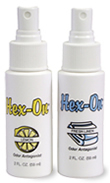 | Product Number | Description | Size | Quantity | Price |
| --- | --- | --- | --- | --- |
| 310-7583-X | Hex-on, Fresh Linen | 2 fl. oz. | each | $6.86 |
| 310-7584-X | Hex-on, Fresh Linen | 4 fl. oz | each | $11.97 |
To Order, Please Click Here