ACCEL TB SURFACE DISINFECTANTS
Designed for use as an intermediate level disinfectant in higher medical risk environments where the requirement for broad-spectrum germicidal performance in short contact times is required. It is formulated for cleaning and disinfection of a higher degree of care surfaces and noncritical medical devices and equipment. It has 0.5% hydrogen peroxide,
is "ready to use" and has a shelf life of 24 months.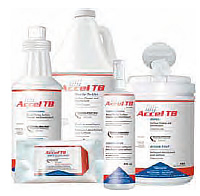 | Product Number | Description | Size | Quantity | Price |
| --- | --- | --- | --- | --- |
| 907-ACCDISR1-TB | Accel TB | 1L | each | $8.05 |
| 907-ACCDISR4-TB | Accel TB | 4L | each | $25.34 |
| 907-AHP7 | Test strip kit for above | | bo/50 | $49.28 |
| 907-ACCWIP1-TB-10X10 | Accel TB wipes | 25cm x 25cm | pk/60 | $15.12 |
| 907-ACCWIP1-TB-6X7 | Accel TB wipes | 15cm x 17.5cm | pk/160 | $17.85 |